4 VMA-framträdanden du måste se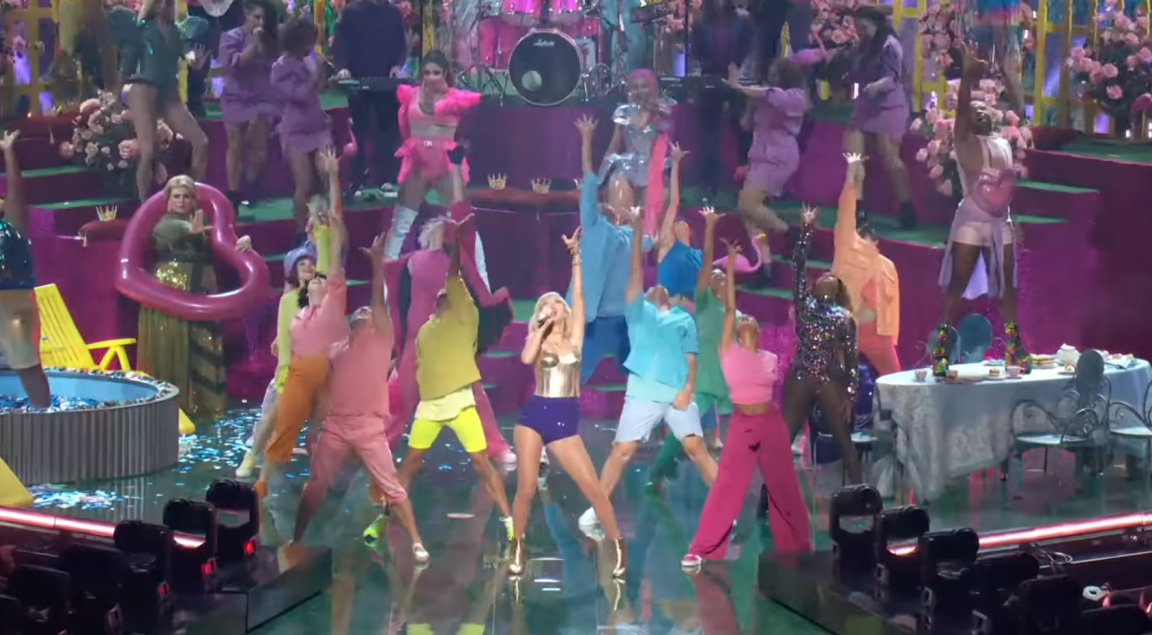 Vi har letat fram de bästa framträdandena från VMA 2019, så att du slipper! + listat kvällens alla vinnare. Enjoy! Mer
Natten till tisdag gick den 36e upplagan av MTV Video music awards av stapeln och förutom att det delades ut priser till årets bästa artister, så bjöd USAs artistelit också på en rad påkostade framträdanden. För att du ska slippa leta upp de bästa så har vi samlat de som du verkligen måste se här nedan.
Taylor Swift
Framförallt Lover (två minuter in i klippet) är värd att se. Dels är det första gången Swift framför den live, men hon är också påtagligt rörd och lycklig under framträdandet. Hur fint?
Lizzo
Kvällens största snackis stod Lizzo för. Med en stor uppblåsbar rumpa som backdrop och ett dans-crew som bestod till hundra procent av svarta dansare stack hennes framträdande minst sagt ut från mängden. Om man kollar på publiken står det klart att det här var den roligaste, peppigaste och röjigaste spelningen under VMAs 2019.
Miley Cirus
Nyskilda Myley Cirus framförde sin senaste hit Slide Away under kvällens gala, och det gick inte obemärkt förbi att hon passade på att dissa exet Liam Hemsworth. Under framträdandet bytte hon ut textraden "You're right, we're grown now", till "You're right, I'm grown now". Subtilt, men ouch!
Missy Elliott
Under kvällen tilldelades Missy Elliot the finaste priset av dem alla: the lifetime achievment award, Video Vanguard. I sitt tacktal tackade hon sina inspirationskällor (bland annat Madonna, Busta Rhymes och Janet Jackson) och hyllade Aaliyah, som dog för 18 år sedan. Hon passade också att köra ett sju minuter långt medley med sina mest hypade låtar. Tråkigt var det inte!
Nyfiken på vilka kvällens vinnare blev? Här är hela listan!
Video Vanguard
Missy Elliott
Årets video
Vinnare: Taylor Swift: "You Need to Calm Down"
21 Savage: "a lot" [ft. J. Cole]
Billie Eilish: "bad guy"
Ariana Grande: thank u, next"
Jonas Brothers: "Sucker"
Lil Nas X: "Old Town Road (Remix)" [ft. Billy Ray Cyrus]
Årets artist:
Vinnare: Ariana Grande
Cardi B
Billie Eilish
Halsey
Jonas Brothers
Shawn Mendes
Årets låt
Vinnare: Lil Nas X: "Old Town Road (Remix)" [ft. Billy Ray Cyrus]
Drake: "In My Feelings"
Ariana Grande: "thank u, next"
Jonas Brothers: "Sucker"
Lady Gaga / Bradley Cooper: "Shallow"
Taylor Swift: "You Need to Calm Down"
Årets nykomling
Vinnare: Billie Eilish
Ava Max
H.E.R.
Lil Nas X
Lizzo
ROSALÍA
Bästa samarbete
Vinnare: Shawn Mendes / Camila Cabello: "Señorita"
Lil Nas X: "Old Town Road (Remix)" [ft. Billy Ray Cyrus]
Lady Gaga / Bradley Cooper: "Shallow"
Taylor Swift: "ME!" [ft. Brendon Urie]
Ed Sheeran / Justin Bieber: "I Don't Care"
BTS: "Boy With Luv" [ft. Halsey]
Årets push artist
Vinnare: Billie Eilish
Bazzi
CNCO
H.E.R.
Lauv
Lizzo
Bästa pop
Vinnare: Jonas Brothers: "Sucker"
5 Seconds of Summer: "Easier"
Cardi B / Bruno Mars: "Please Me"
Billie Eilish: "bad guy"
Khalid: "Talk"
Ariana Grande: "thank u, next"
Taylor Swift: "You Need to Calm Down"
Bästa hiphop
Vinnare: Cardi B: "Money"
2 Chainz: "Rule the World"[ft. Ariana Grande]
21 Savage: "a lot" [ft. J. Cole]
DJ Khaled: "Higher" [ft. Nipsey Hussle and John Legend]
Lil Nas X: "Old Town Road (Remix)" [ft. Billy Ray Cyrus]
Travis Scott: "SICKO MODE" [ft. Drake]
Bästa r&b
Vinnare: Normani: "Waves" [ft. 6LACK]
Anderson .Paak: "Make It Better" [ft. Smokey Robinson]
Childish Gambino: "Feels Like Summer"
H.E.R.: "Could've Been" [ft. Bryson Tiller]
Alicia Keys: "Raise a Man"
Ella Mai: "Trip"
Bästa K-Pop
WINNER: BTS: "Boy With Luv" [ft. Halsey]
BLACKPINK: "Kill This Love"
Monsta X: "Who Do You Love" [ft. French Montana]
TOMORROW X TOGETHER: "Cat & Dog"
NCT 127: "Regular"
EXO: "Tempo"
Bästa latino
Vinnare: ROSALÍA / J Balvin: "Con Altura" [ft. El Guincho]
Anuel AA / Karol G: "Secreto"
Bad Bunny: "MIA" [ft. Drake]
benny blanco / Tainy / Selena Gomez / J Balvin: "I Can't Get Enough"
Daddy Yankee: "Con Calma" [ft. Snow]
Maluma: "Mala Mía"
Bästa dance
Vinnare: The Chainsmokers: "Call You Mine" [ft. Bebe Rexha]
Clean Bandit: "Solo" [ft. Demi Lovato]
DJ Snake: "Taki Taki" [ft. Selena Gomez, Ozuna and Cardi B]
David Guetta / Bebe Rexha / J Balvin: "Say My Name"
Marshmello / Bastille: "Happier"
Silk City / Dua Lipa: "Electricity"
Bästa rock
Vinnare: Panic! At the Disco: "High Hopes"
The 1975: "Love It If We Made It"
Fall Out Boy: "Bishops Knife Trick"
Imagine Dragons: "Natural"
Lenny Kravitz: "Low"
twenty one pilots: "My Blood"
Bästa grupp
Vinnare: BTS
5 Seconds of Summer
Backstreet Boys
BLACKPINK
CNCO
Jonas Brothers
PRETTYMUCH
Why Don't We
Bästa power anthem
Vinnare: Megan Thee Stallion: "Hot Girl Summer" [ft. Nicki Minaj and Ty Dolla $ign]
Ariana Grande: "7 rings"
DJ Khaled: "Wish Wish" [ft. Cardi B and 21 Savage]
Halsey: "Nightmare"
Lizzo: "Tempo" [ft. Missy Elliott]
Maren Morris: "Girl"
Miley Cyrus: "Mother's Daughter"
Taylor Swift: "You Need To Calm Down"
Sommarens låt
WINNER: Ariana Grande and Social House: "Boyfriend"
Billie Eilish: "Bad Guy"
DaBaby: "Suge"
Ed Sheeran and Justin Bieber: "I Don't Care"
Jonas Brothers: "Sucker"
Khalid: "Talk"
Lil Nas X: "Old Town Road (Remix)" [ft. Billy Ray Cyrus]
Lil Tecca: "Ransom"
Lizzo: "Truth Hurts"
Miley Cyrus: "Mother's Daughter"
Post Malone: "Goodbyes" [ft. Young Thug]
Rosalía and J Balvin: "Con Altura" [ft. El Guincho]
Shawn Mendes and Camila Cabello: "Señorita"
Taylor Swift: "You Need To Calm Down"
The Chainsmokers and Bebe Rexha: "Call You Mine"
Young Thug: "The London" [ft. J. Cole and Travis Scott]
Fashion trailblazer
Vinnare: Marc Jacobs
Bästa regi
Vinnare: Lil Nas X: "Old Town Road (Remix)" [ft. Billy Ray Cyrus] (dir. Calmatic)
Billie Eilish: "bad Guy" (dir. Dave Meyers)
FKA twigs: "Cellophane" (dir. Andrew Thomas Huang)
Ariana Grande: "thank u, next" (dir. Hannah Lux Davis)
LSD: "No New Friends" (dir. Dano Cerny)
Taylor Swift: "You Need to Calm Down" (dir. Drew Kirsch and Taylor Swift)
Bästa specialeffekter
Vinnare: Taylor Swift: "ME!" [ft. Brendon Urie] (visual effects: Loris Paillier & Lucas Salton for BUF VFX)
Billie Eilish: "when the party's over" (visual effects: Ryan Ross, Andres Jaramillo)
FKA twigs: "Cellophane" (visual effects: Matt Chandler, Fabio Zaveti for Analog)
Ariana Grande: "God is a woman" (visual effects: Fabrice Lagayette, Kristina Prilukova & Rebecca Rice for Mathematic)
DJ Khaled: "Just Us" [ft. SZA] (visual effects: Sergii Mashevskyi)
LSD: "No New Friends" (visual effects: Ethan Chancer)
Bästa redigering
Vinnare: Billie Eilish: "bad guy" (editing: Billie Eilish)
Anderson .Paak: "Tints" [ft. Kendrick Lamar] (editing: Elias Talbot)
Lil Nas X ft. Billy Ray Cyrus – "Old Town Road (Remix)" (editing: Calmatic)
Ariana Grande: "7 rings" (editing: Hannah Lux Davis & Taylor Walsh)
Solange: "Almeda" (editing: Solange Knowles, Vinnie Hobbs, Jonathon Proctor)
Taylor Swift: "You Need to Calm Down" (editing: Jarrett Fijal)
Bästa art direction
Vinnare: Ariana Grande: "7 rings" (art direction: John Richoux)
BTS: "Boy With Luv" [ft. Halsey] (art direction: JinSil Park, BoNa Kim (MU:E))
Lil Nas X: "Old Town Road (Remix)" [ft. Billy Ray Cyrus] (art direction: Itaru Dela Vegas)
Shawn Mendes / Camila Cabello: "Señorita" (art direction: Tatiana Van Sauter)
Taylor Swift: "You Need to Calm Down" (art direction: Brittany Porter)
Kanye West / Lil Pump: "I Love It" [ft. Adele Givens] (art direction: Tino Schaedler)
Bästa koreografi
Vinnare: ROSALÍA / J Balvin: "Con Altura" [ft. El Guincho] (choreography: Charm La'Donna)
FKA twigs: "Cellophane" (choreography: Kelly Yvonne)
LSD: "No New Friends" (choreography: Ryan Heffington)
Shawn Mendes / Camila Cabello: "Señorita" (choreography: Calvit Hodge, Sara Biv)
Solange: "Almeda" (choreography: Maya Taylor, Solange Knowles)
BTS: "Boy With Luv" [ft. Halsey] (choreography: Rie Hata)
Bästa foto
Vinnare: Shawn Mendes / Camila Cabello: "Señorita" (cinematography: Scott Cunningham)
Anderson .Paak: "Tints" [ft. Kendrick Lamar] (cinematography: Elias Talbot)
Billie Eilish: "hostage" (cinematography: Pau Castejon)
Ariana Grande: "thank u, next" (cinematography: Christopher Probst)
Solange: "Almeda" (cinematography: Chayse Irvin, Ryan Marie Helfant, Justin Hamilton)
Taylor Swift: "ME!" [ft. Brendon Urie] (cinematography: Starr Whitesides)